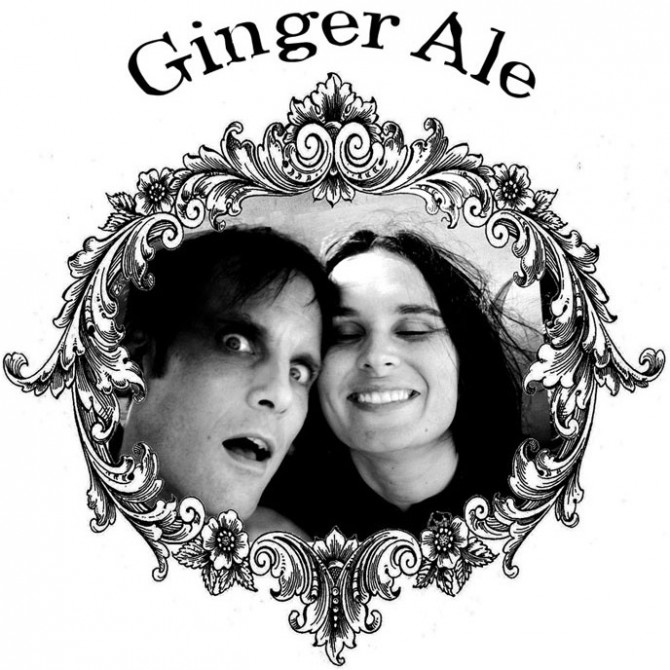 Home made ginger beer – a perfect festive gift for the budget-savvy.
I'm making my friends homemade ginger beer for Christmas this year! Shhhhhhh!
It's dirt cheap because it's only got three ingredients: sugar, water and ginger root! Double shhhhhhhhh!
We've made a batch already and it is DELICIOUS; definitely of comparable yumminess to any commercially produced ginger beer (although maybe not as alcoholic).
I got it from my newfound fermenting Bible, Wild Fermentation by Sandor Katz.
So, how do you make it? First, you need bottles… these may be obtained from around the house, as we did for our first batch.  However, if you want a more professional set-up, you can also purchase and drink a carton of beer. Tim put up his hand for this particular task… it's a tough job, but someone's got to do it!
We're buying crown caps and a capper from a home brewer supplier. You don't have to do this, but if you don't, your bottle lids don't seal as well. Your ginger beer will still be delicious, but won't be as fizzy as it would be if it were tightly sealed with proper caps.
Next, you need to make the beer starter, or 'ginger bug' as Katz calls it.
This is what you need for the starter bug:
Two teaspoons of fresh, coarsely grated ginger (I used a lovely organic root).

Two teaspoons of sugar (I used raw)

One cup of water (I used filtered, slightly warmed).
You also need cloth and rubber bands, but I was far too disorganised to think of that and rubber bands seem to be abundant in my house until I actually need one, so I used mesh and wool!
Stir the ginger and sugar into the water, then cover with the 'cloth' and 'rubber band'. Put it in a warm spot. As I am definitely NOT dreaming of a whire Christmas here in sub-tropical Australia, it wasn't too hard to find a warm spot. However, if you're somewhere chilly, you could try putting your bug on a water heater or in a room that stays warm or something of that nature. An oven light is meant to be quite good.
I made two bugs. Aren't they pretty? Now, I just leave the bug to do its thing for a night. Tick-tock-tick-tock!
This recipe for home made ginger beer was originally published in Wild Fermentation by Sandor Katz. I have reviewed his book more extensively in a cook book review, but suffice to say here that he is something of a guru on the ailing art of fermenting food. Katz points out that the post-refrigeration generations have abandoned a process of preserving food that had been part of our cultural practices up until that point – whereas now we freeze foods, or load them up with chemical preservatives, generations past used fermenting to culture healthy, protective bacteria to prolong the shelf-life of food.
Katz believes that this bacteria can support healthy immune function, enabling our system to build better defences against pathogens. As a result, we become more robust. While I cannot verify the science behind Katz' claims, he does make some very plausible arguments – and the proof is in the pudding, perhaps; Katz continues a healthy and active life despite being diagnosed with HIV more than a decade ago.
Whether or not his claims are true, I can attest that his recipe yields damn good ginger beer – not too sweet, pleasantly gingery, alcoholic enough for an adults-only rating without overwhelming the consumer. Give it a go!