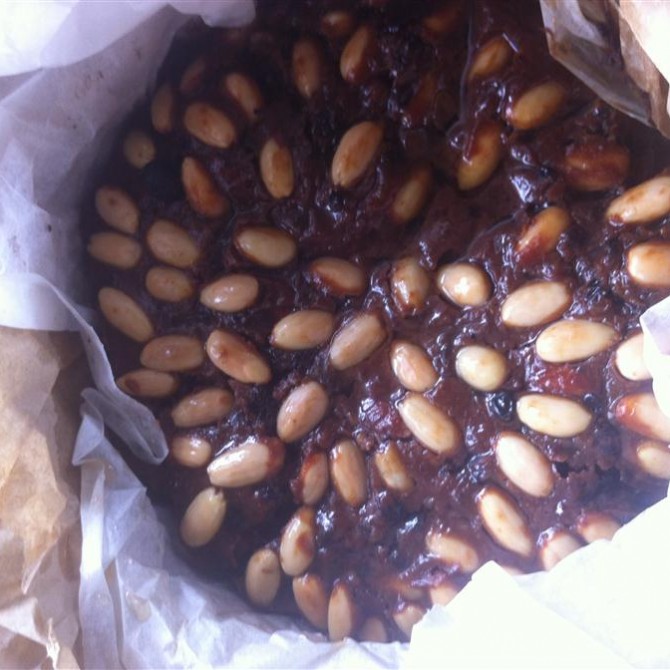 This isn't exactly a ferment, but it is definitely food-play that extends out of the boundaries of modern storage and preservation. It's basically a cake that is preserved for several weeks via regular brandy sozzlings!
A new friend, Alanna Main gave me this recipe. It is her Grandma Sannie's recipe. I felt very honoured to receive this treasured family recipe and even more grateful that Alanna has allowed me to share it in blog form.
This is my first attempt at making an aged Christmas cake and I am very excited! I actually made two; one slightly moister than the other, because I was unsure which would yeild better results. Here's how I made it.
SANNI'ES FRUIT CAKE – from Alanna
Ingredients: 1,375 g mixed dried and/or glace fruits.
Alanna used
375g sultanas
250g raisins
250g currants
400g glace fruit
I cheated here and used a bag of currants and a big bag of 'Christmas cake mix' from my local health food shop – it contained dried and glace fruit and nuts. Why do health food stores sell glace fruit? Anyone? Anyway, moving right along.
The cake also contains:
250g butter
1 cup brown sugar
5 eggs
1 cup plain flour
1/3 cup SR flour
A large can of apricot nectar
1 tsp cinnamon
1 tsp mixed spice
1/2 tsp ginger
1/2 tsp nutmeg
A big bottle of brandy
Blanched almonds
Combine the fruit, sugar, spices and apricot nectar in a saucepan. Stir while heating to the boil, then simmer for 10 minutes. I loved the caramel smell and appearance at this stage. Look! Mmmmmm.
Cool this mix to room temperature.
Meanwhile, prepare a cake tin or tins. I had enough mix to fill two regular sized, round spring-form tins. First, line the tin with brown paper, doubled over, and with a high 'collar' above the tin. Line this with baking paper pressed firmly into the sides.
Once your cake mix has cooled, add eggs and stir. Stir in sifted dry ingredients. Pour into the prepared cake tin(s) and decorate with blanched almonds. Bake in a slow (160 degrees C) oven for 2 1/2 hours, or until a skewer pushed to the bottom of the cake comes out clean.
Pour about 1/2 a cup of brandy over the hot cake – it will give off a most satisfying sizzling sound. Wrap the brown paper around the cake. Leave it to cool.
Once it is cool, pour over another 1/2 cup of brandy.
It is now time to do what Sannie apparently called 'putting the cake to bed'.
Wrap the cake in the paper again, followed by two layers of aluminium foil, to prevent it from drying out.
Every few weeks or so, add a bit more brandy before re-wrapping.
The cake is supposed to be at its best after six weeks – alas, I've left it a touch too late for that! If stored well, it can keep for months!